When you brushed your teeth this morning and glanced in the mirror, you saw the church. You are the church. The church isn't the building, it is the people.
As the people we are the ones called to build bridges back to God. Our building is one of the tools we employ to build bridges back to God. The building used to be a primary tool. I say used to be, because while it remains important, it isn't as useful in a world that needs physical distancing. Today our primary tool is through digital means, choosing to be Christians online.
This shift is painful and unnerving. I recognize that discomfort, I feel it too. Yet we are called to go through the process of finding out what it looks like to continue to be the church and continue to build bridges back to God.
For God has not given us a spirit of fear, but of power and of love and of a sound mind. 2 Timothy 1:7
Courthouse Road Church's Guidelines for In-person Event Attendance
Visiting with us looks a little different as we seek to keep you safer in the midst of a global pandemic. Here are the steps to know so you visit can go as smoothly as possible.
Park in the back – We need the parking spots up top for those with limited mobility. Its just a short walk up a paved sidewalk, so please choose a spot in the back.
Put on your mask – Before leaving your car, put on the mask. This is a great opportunity to show your flair, feel free to pick Dr. Seuss, a Bible verse, or Star Wars. This mask will protect others, so this is caring for your neighbor.
Walk up the sidewalk – Feel free to admire the trees and sky on your way up.
Note the handicapped parking – This is only for those who are unable to walk up. We fully recognize there are those who need these parking spaces. If there's only one in your party with limited mobility, consider giving them curb side drop off, and then parking in the back.
Signage on the doors – The signs you'll see list the Commonwealth requirements. It lists requirements like joining online if you are Covid19 positive, or had contact in the past 14 days with someone who is. (We know this is hard on our hard working heroes, they are why we will endeavor to bring the best possible experience online.) Please choose online if you had a fever in the past 48 hours. Online is safest for anyone over 60 or with underlying health conditions.
Touchless Temperature Check – With a quick wave of a wand we'll confirm if you have a fever. This is part of our swiss cheese method for keeping people safer. Every level of safety comes with holes, like Swiss cheese. Now picture what it looks like when you stack up the slices, this creates a safer environment.
Check in table – This tells us you're here! It is also an opportunity to update all your contact information. That update is for each member of your party, so if you want to speed things up download the app and check accuracy ahead of time.
Floor stickers – Will keep you regularly updated with how far six feet is. The blue stickers list what love is, and this physical distancing is love. It is loving our neighbor even while we wish we could be closer. It reminds us to choose air hugs and head knobs, over our usual handshakes and hugs.
Don't linger in the lobby – Head on in to your seat. I know, this makes me sad too. I loved the buzz of the Commons over a cup of coffee. But for now we are pausing all refreshments and limiting conversation time.
Bathrooms are available – Our bathrooms are regularly cleaned. But we do invite you to use your home facilities before coming to limit needed trips. We'll also keep the service to an hour as another way to help you avoid the bathroom.
Tithe envelopes – They are available on the table for you to grab one and take it with you. There will also be a box for you to drop your tithes and offerings in.
Hand sanitizer – Its everywhere!! Feel free to use it regularly.
Doors are open – the doors to the worship room will be propped open. This means you can walk straight in and find your pod of chairs.
The worship room – The seats are arranged in pods. The registration for each event allows our deacons to put the seats out and put your family's name on them. Our goal is to make it seamless to come in, be seated in your home base, and limit the required movement. I know this is a big change. We used to linger, now we move with purpose in order to leave the needed physical distancing.
Cameras – You'll notice the prominence of the video cameras. That's because many will be joining online. So when you come, the best thing to do is imagine you are part of a live studio audience. You are important, you are welcome. And we are doing our best to bridge the gap between in person and online. We are one faith community worshiping together at different addresses.
Children's Story – Yes! We will have children's story, and children will remain with their parents instead of collecting an offering, or coming up front. This is to keep our children safer. Things look different, but maybe extra hugs from mom and dad will fill the place of sitting closer to the story teller.
Safer Kids – I'm the parent of a seven and nine year old. My kids are energetic and full of wiggles. This makes it hard to help them remember social distancing. Its weeks of talking through things and explaining for them to be able to do it. I invite you parents to work with your kids so they can wear their masks as much as possible. The goal is for your kids to stay close to you. As my aunt said, "Make sure you are close enough to get a hug in three steps." As much as we adults are experiencing culture shock with all these adjustments, our kids are too. Which means they won't be able to handle it without our consistent help.
Music – You'll notice that our special music is via video and there is no congregational singing. This is based off of best practices for church safety. The deep breaths needed to sing send water droplets further. With the possibility of asymptomatic spread, this is the best way to keep you safer while you are here.
Touchless Service – Somehow this goes against everything I think of when I think of church. But it is best for now. We won't pass the offering plate, or hand you a bulletin. We will give you boxes to drop your envelope in, we will direct you to where to get a digital bulletin.
Shorter Service – The service will be less than an hour and you'll notice we don't put more people up front than we have dedicated microphones for them. This is to keep people safer.
More space between front row and platform – Its intentional. Those leading worship will remove their masks for their upfront time, then put them back on. The extra space allows for any water droplets to fall to the floor and not on to anyone.
Wrapping up – As much as we want to talk and share after, we ask that after the closing prayer reaches its amen, that you gather your things and head home. If you want to talk, then exchange phone numbers and chat in the car on the drive home. The Pastor will even walk out the door and climb in her car as an example of what we need to do.
As you exit – Please use the back door. This is where you are glad that you parked out back. Its just a short walk down a few steps and there you are at your car. (If someone in your party has limited mobility, they are free to use the ramp at the front of the church. You will be able to drive your car around and meet them.)
Closing Remark – It feels sterile, it feels odd, it is different. It isn't the way we wish it would be. But at least these procedures will allow us to see each other and to worship under the same roof. We pray for the day of a treatment and a vaccine, until then we will do all in our power to keep you safer and invite your help in caring for the others who choose to join in-person as well.
Pray for the nurses and doctors assigned to care for the sick and the scientists who are searching for an effective vaccine.
Update from Committee to Resume In-Person Services
As you know, we have been cautious on resuming in-person services at CRC, and this article on why churches are can be a major hotspot for coronavirus cases may help you understand why. Click to read.
Your leadership team set up a sub-committee to sift through data, sort through best practices on our behalf and then make recommendations back to the leadership team. This committee is chaired by Lawrence Landa and their goal is to find out how to resume in-person services for Courthouse Road Church. Also on the committee is our head deacon Charles Sagini, head deaconess Pat Williams, our pastor Heather Crews, and Dr. Abraham Teklu.
The team did amazing work and deserve our thanks. Their task is not an easy one, because reports show that we are safer at home, yet we long to worship in community. The leadership team believes the steps we are taking best balances that longing while reducing the COVID risk as much as reasonably practical.
The team looked through reports from the Centers for Disease Control, guidelines and rules from the Commonwealth of Virginia, reports from the Virginia Department of Health and more. The goal in all this research was to analyze the data and then synthesize it to create risk mitigation strategies that result in a safer environment for people to worship at the building on Courthouse Road.
The sub-committee report given to the Leadership Team on July 8 is contained in the slides below this note so you can see what the decision of the Leadership Team is based on.
Conclusion: For now, our services will remain primarily online however the church building is open to small groups and you can host one. Contact Pastor Heather to coordinate when your group will be in the building. We must clean and disinfect the facility between the times the facility is used.
The first small group that is using the building is the adult Sabbath school class on Sabbath morning. You are welcome to join this group but registration is required and seats are limited. (Registration is available by clicking here.) Those who attend this class are able to stay after for family worship experience because there is not time for them to make it home before the family worship experience begins at 11:00am. This group is also helping the team practice and hone their techniques for our risk mitigation strategies designed to keep everyone as safe as possible.
Recognizing that so many of these new protocols are brand new to all of us, it is sometimes helpful to understand the "why" behind them. Because of social distancing requirements, capacity at the building is limited. Registration helps us know in advance how many people are coming so we can ensure we don't exceed capacity.
Once you arrive at the facility we will check you in. This has a few advantages, but in this context the primary reason is that it gives us an accurate list of who was there for COVID contact tracing purposes should we have anyone we later discover are positive for COVID.
Our check-in team is expanding to support this! If you would like to be a part of that team, please let Pastor Heather know that you are willing to be a volunteer.
The worship time is predominantly online. I invite you to turn your house in to a home church and invite a friend or neighbor to be with you. What if you set up a computer in the back yard, everyone brought their camp chair, and you viewed worship while the kids played in the yard?
After reading through the slide presentation, feel free to contact either Lawrence Landa (Lawrence.Landa@icloud.com) or Pastor Heather (HeatherC@pcsda.org) if you would like to be a part of the conversation or if you need understanding on any of the information.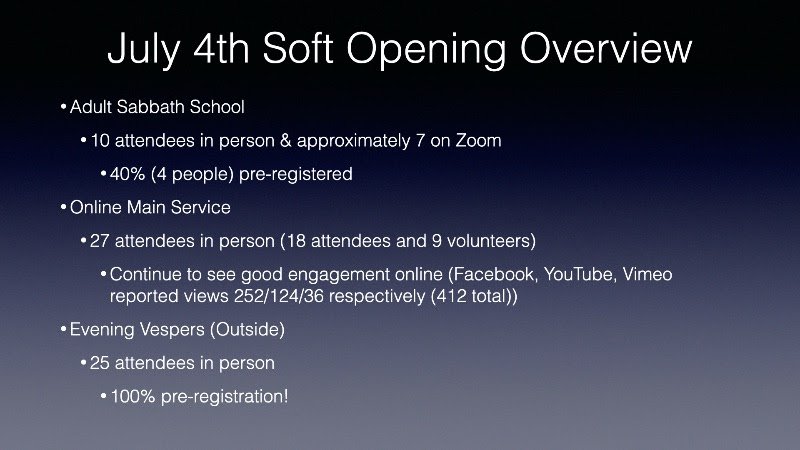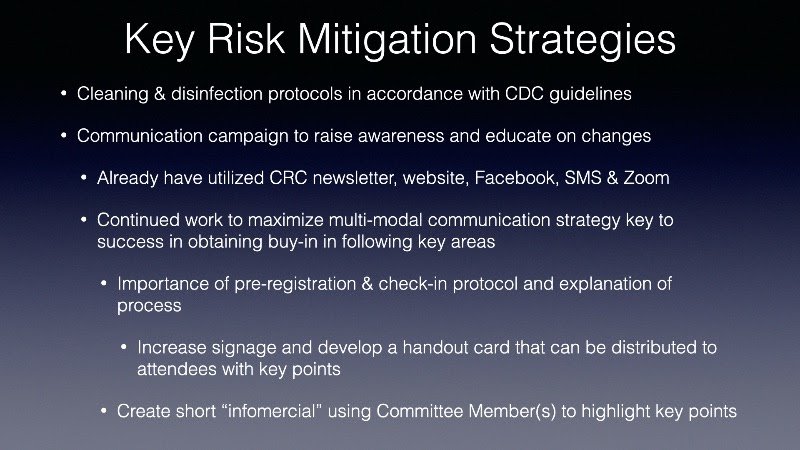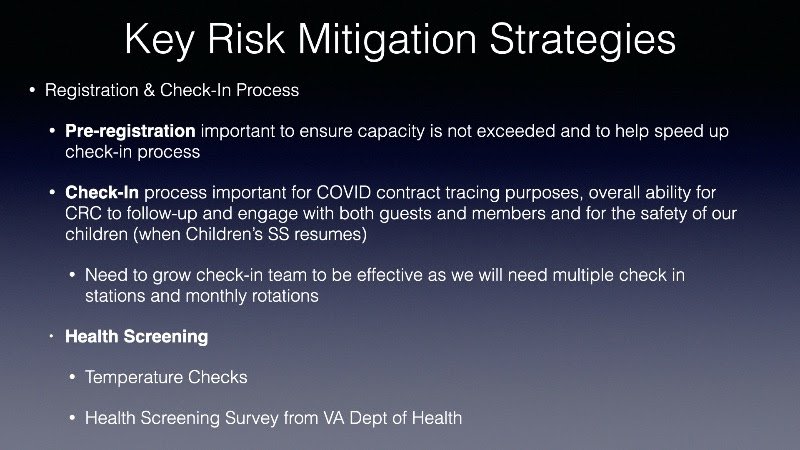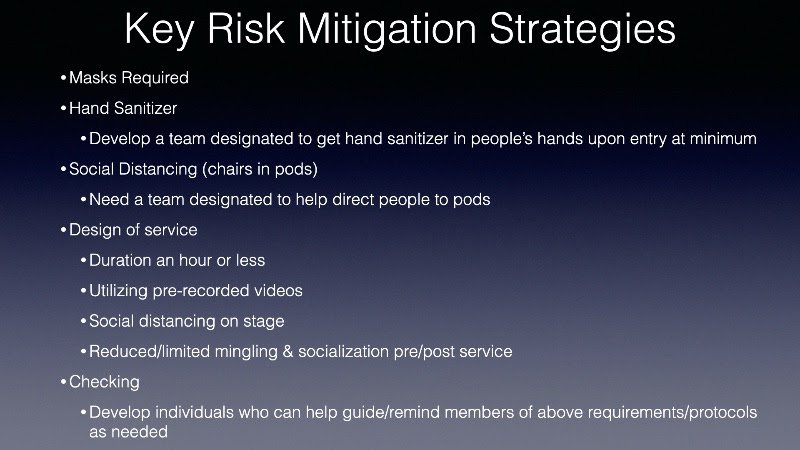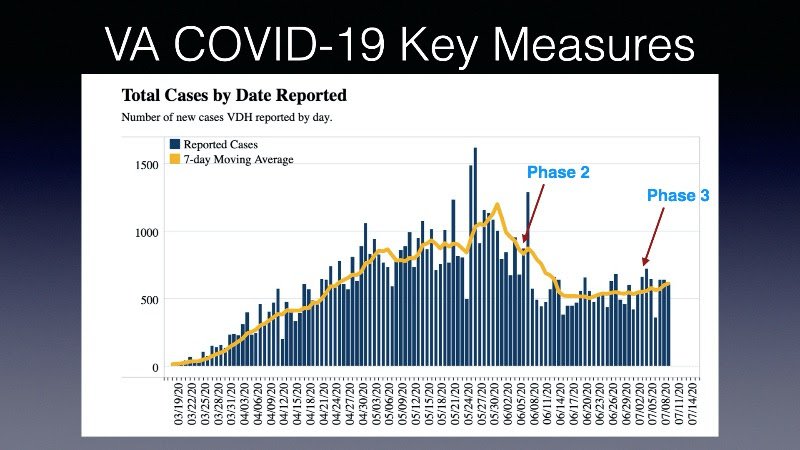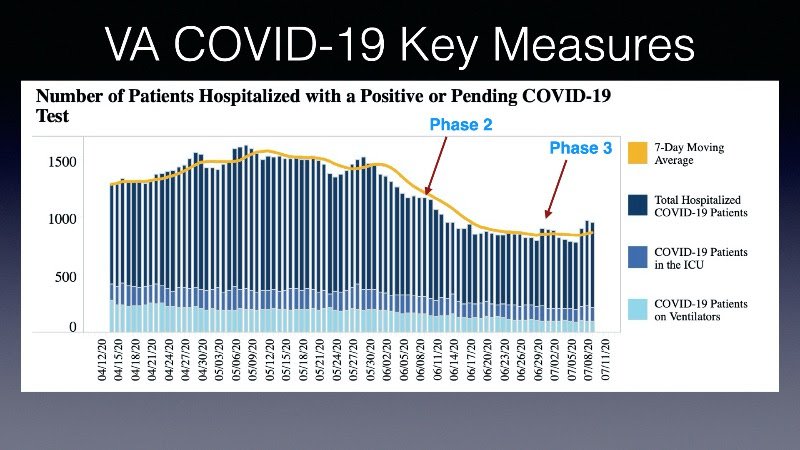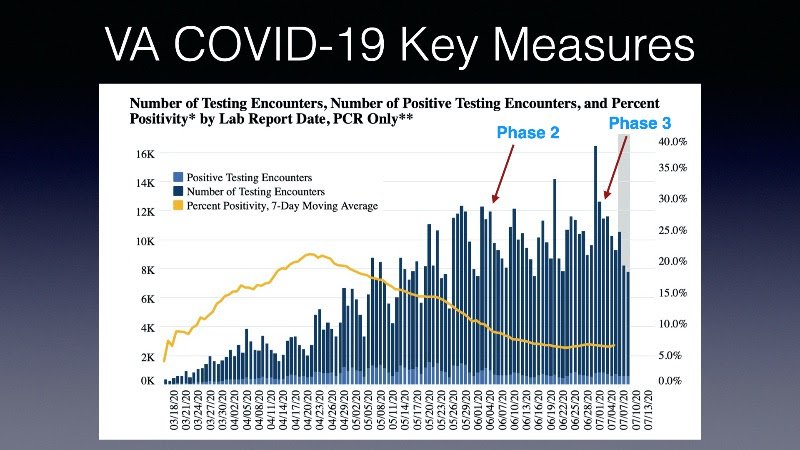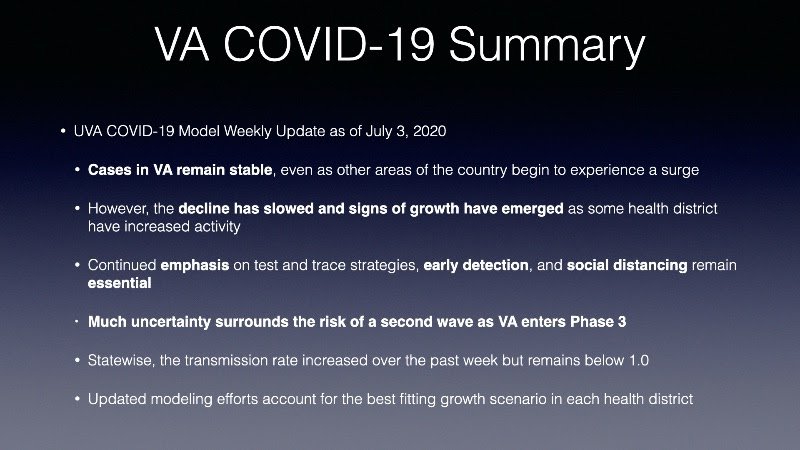 Why Require Masks?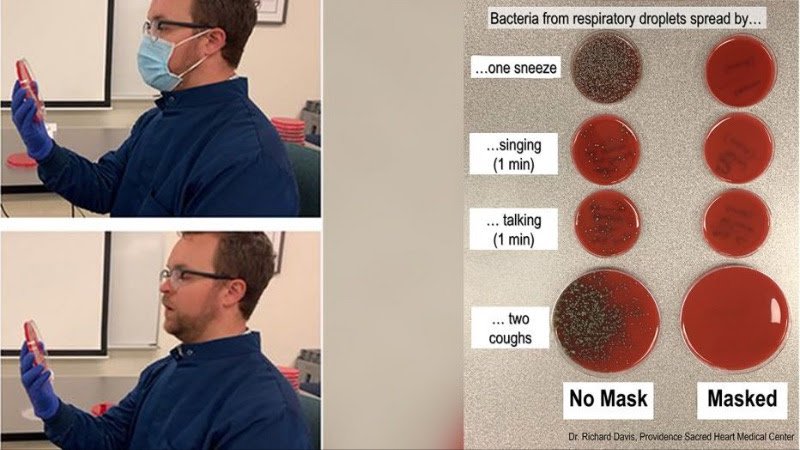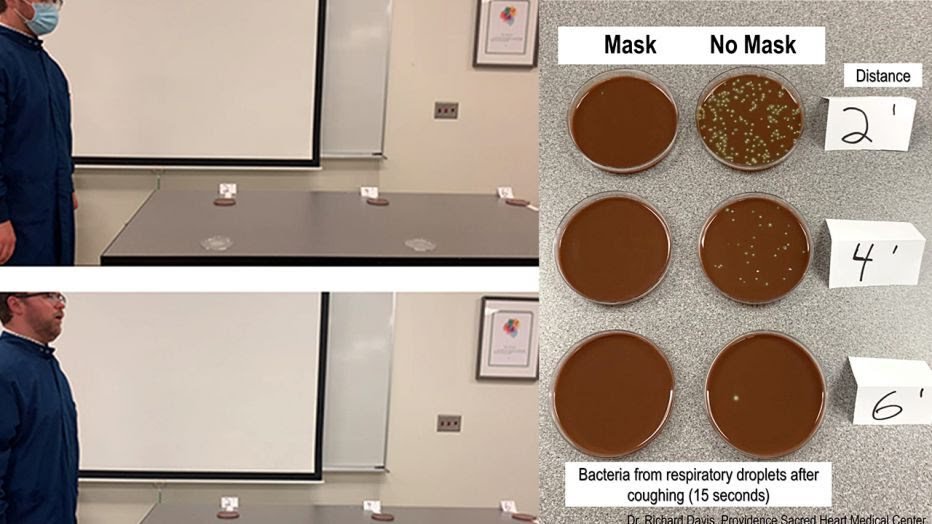 Masks make a difference. Here is one article that shows visually why wearing a mask is an act of compassion. You wear a mask to protect those around you incase you are an asymptomatic carrier of covid19. Take a minute to check out the article by clicking here.